Company profile
Are you an expat at a turning point in your career, but uncertain about your next step?
Or have you left your job behind, but staying at home is not for you, and you'd rather find work where you can fulfill yourself?

Get an overview of the key strategies to reinvent your career by registering for free on www.careeronpurpose.com/transitions.

O'ona Souissi helps international professionals build a meaningful career. She is a certified Executive Coach with a background in Global HR Development and Consulting for blue chip companies, and an accredited member of the International Coach Federation. She works in English and in French.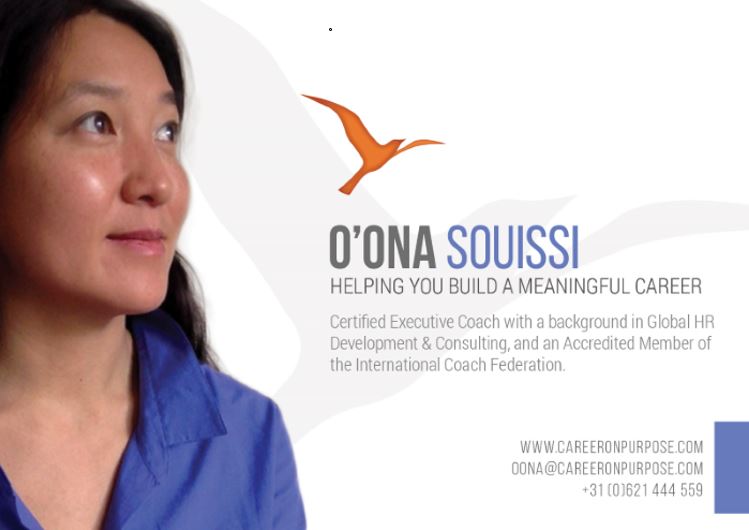 Our services
At a career crossroads and not progressing as you should?
You don't have to keep struggling.

Whether you want to find your next assignment, re-enter the workforce, start in a new field or have your own business, you probably feel that you have a lot to offer and you don't want to settle for less.

Unlike other methods that are disconnected from reality or limited to tactical advice, you'll get an end-to-end approach with proven strategies to reinvent your career.

Coaching one on one and in peer groups, in English and French.

Any questions on your personal situation? Get in touch with O'ona at oona@careeronpurpose.com.
If this is something I see I can help you with, I'll gladly answer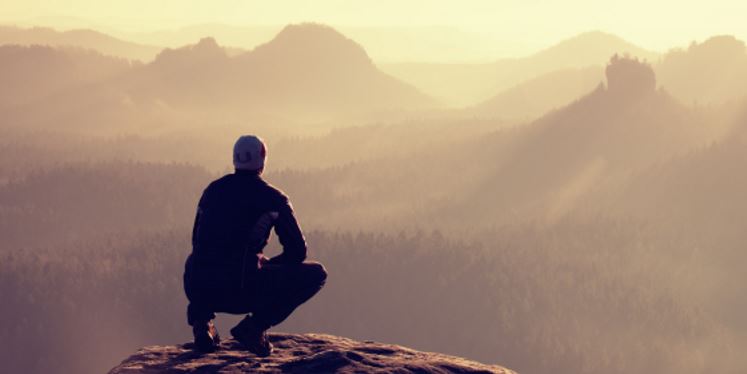 Our story
Our approach
Our team
Company film
News
Interview
Locations and directions
O'ona is based near The Hague, in the Netherlands. Her clients being all over the world, she coaches mainly via Skype and over the phone, but also in-person when geography allows it.
Address: South Holland
City: The Hague
Country: Netherlands
Phone: +31 (0)621 444 559
Email: oona@careeronpurpose.com
Website: www.careeronpurpose.com
"The biggest result was to identify my natural talents and to get clear on what is important to me both at a professional and personal level. Through my work with Oona, I found my career path, and transitioned from being a scientific researcher to starting my own business as a Coach.

The easy step by step processs gives you structure, and allows you to progress even when you are not sure about things. And personally, O'ona brought me back on track when I had doubts or hesitations, and her soft but daring approach helped me to overcome self-sabotage.

I think it is for every person who has this little voice inside telling them that it is time for a change, for something bigger or better. For me, it has been life changing.

O'ona, you know how deeply grateful I am, and how transformative your guidance has been for me. Please keep doing what you do, the value you bring to people's life is something wonderful and unique, and I dare to say that there is no economical value that can express it. Muchas gracias!"

- Life Coach for women and youth empowerment, Chiang Mai
"I came to coaching at a turning point in my career. After many years giving a lot to my organization and subsequently climbing the ranks, I felt the need to take a step back to assess the path I wanted to take next. I was not only overworked, but I also questioned my career choices. I had a strong desire to define my own path and to reframe my life. Coaching with O'ona brought me to a clearer path."

- Regional Trading and Supply Manager, Oil and Gas, The Hague
"I was hired at the exact organization I wanted to work for"

"When I contacted O'ona, I was not really sure what I wanted to do. After moving to this new country, I had stopped working for a while to settle the family. But when I found myself ready to go back to work, despite many attempts, valuable work experience at a European level and two master's degrees, I didn't get much result and I was no longer sure whether I should stay on the same path or do something else. I was feeling isolated, demotivated and depressed.
In just a few hours of coaching with O'ona, I defined what I want to do, I improved the way I present myself on my CV and LinkedIn, and I started to get feedback and advice from people who knew the field I was targeting. And I got a clear plan that helped me target the right companies and the right people more effectively. Not long afterwards, I was hired at the exact organization I wanted to work for.

I am thrilled as you can imagine!!! O'ona, I would like to thank you once again for your help, support and guidance during our sessions."

- Project Controller, European Agency, Noordwijk
Company profile